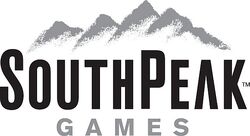 SouthPeak Games is a video game publishing company founded in 1996. It is the publisher of Section 8. 
The following is taken from SouthPeak Games' Corporate Profile section. 
SouthPeak Interactive Corporation develops and publishes interactive entertainment software for all current hardware platforms including: PLAYSTATION ®3 computer entertainment system, PSP ® (PlayStation ® Portable) system, PlayStation ®2 computer entertainment system, Xbox 360(TM) entertainment system, Wii(TM), Nintendo DS(TM) and PC.
SouthPeak's games cover all major genres including action/adventure, role playing, racing, puzzle strategy, fighting and combat. SouthPeak's products are sold in retail outlets in North America, Europe, Australia and Asia.
SouthPeak is headquartered in Midlothian, Virginia, and has offices in Grapevine, Texas and London, England.
Ad blocker interference detected!
Wikia is a free-to-use site that makes money from advertising. We have a modified experience for viewers using ad blockers

Wikia is not accessible if you've made further modifications. Remove the custom ad blocker rule(s) and the page will load as expected.